I would be lying to all of the internet if I didn't admit to my iphone being glued to my hand most of the day. Being able to snap a photo anywhere at any moment is an amazing thing. Digital cameras have always made that easy, but there is something about the camera on my phone that just makes it a no brainer to take a photo of EVERYTHING.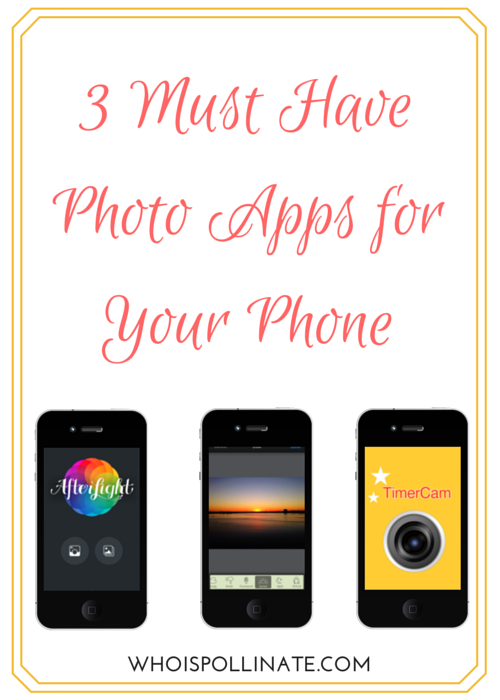 While I do have a Nikon DSLR camera that I love and use, I tend to take a lot of photos with my beloved iphone. The camera is 8-megapixals on the iphone 5, so I know I can get some pretty amazing pics with it.
I am always on the hunt for apps that can turn the pictures I snap into a work of art, for both work and my personal use.
1. Camera+ This app is $1.99 but you get a lot of amazing features for $1.99. This app helps me turn a pretty sunset into a gorgeous sunset that people go gaga over. I use this app all the time when I have a photo that is a bit too dark, I can use one of the scenes modes to give my photos more life. You can edit multiple photos quickly, and a super awesome feature is having all the details of the photo. Easily find out detailed info about your photos including when they were shot, dimensions, sizes. You can also see at a glance all the edits you applied to any pic. There is so much more this app does, we promise you won't be disappointed. This app is only for iphone.
2. Afterlight This app is .99cents, but with 59 filter options, 66 natural textures and 128 frame options you won't be disappointed. My favorite feature of this app is the natural texture options. I love being able to add 35mm film light streaks to my photos. It gives them so much more depth. I also love this app because I can use it make horizontal photos work for an Instagram post without losing part of the image. This app is available for iphone and android.
3. TimerCam This app is free, so you need to download it ASAP! This app is a self-timer, choose from a 5, 10, 15, or 30 second delay. You can use it for both rear and front facing photos. I personally use it all the time to get a full shot of my outfits to post on Instragram. I've also used it often to get an "Ellen Selfie" with a group of people. Just set the timer hold up your phone and wait for the 3 second count down to begin. This app is only for iphone, but there are tons our there for android as well.
Skip your $4 latte today and download these apps to make your photos go from these are pretty, to WOW, THESE ARE AWESOME!