Do you listen to podcasts? The podcast app on my iphone and ipad both get a lot of use these days. In the past I would listen to a podcast every now and then, but in this last year I've upped my podcast listening game. Being able to listen to a podcast when I am doing another task is my favorite way to multi-task. If I am being honest I don't often mulit-task anymore as I feel like it doesn't really help me out in the end, but listening to a podcast while I do a somewhat mindless task is great! I listen to a podcast when I walk our dog, cook dinner, take a shower, and even go on a run. In the last few months I've painted both our dining room table as well as our kitchen cabinets, for both projects I listened to podcasts!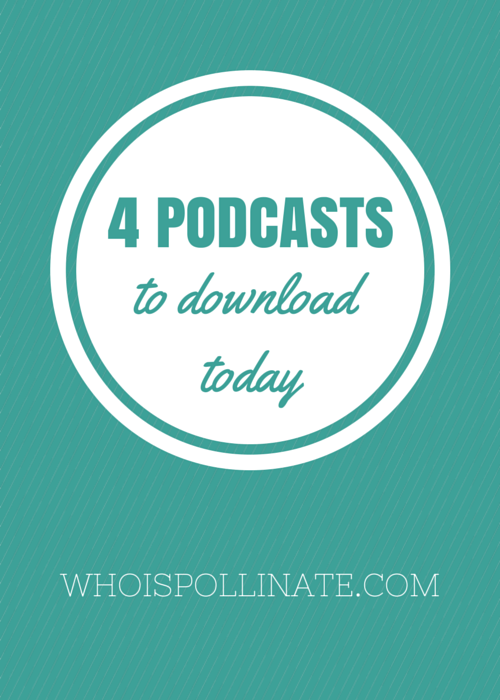 There are 4 podcasts I have on constant rotation. 1. Art of Simple Podcast. You might know Tsh as the founder of The Art of Simple blog or the author of Notes From a Blue Bike, but she also hosts a podcast. She interviews tons of fun people like Lisa of Lisa Leonard Designs, and Shauna Niequist, blogger and author of Bread and Wine. In each episode the topics discussed vary from laundry, book deals, travel, blogging and everything in between. I like to listen to Tsh's podcast when I'm cooking dinner because it feels like I'm listening to two friends chatting while I make sure I don't burn the chicken. 2. Elise Gets Crafty. Don't let this title fool you, you don't have to be a super crafty person or an etsy shop owner to love this podcast. Elise talks about all things blogging, business, and things that inspire her! She has interviewed the A Beautiful Mess gals, Elsie + Emma and Hayley from Wildly & Co.. I love this blurb from Elise's podcast description:

When I started listening to podcasts I was looking for a show just like this; something accessible that was geared toward small-business owners and/or creatives. I couldn't find one, so I started my own.

I most often listen to Elise's podcast when I am taking our dog on a walk at night. This helps me transition from my work to-do list and into thoughts about my own blog and business ideas. 3. Kate's Take: The EntrepreneurOnFire Audio Blog Kate is one of my dearest and oldest friends, and her podcast is amazing. I might be biased, but if you are looking to get serious about making our blog your business or starting your own business this podcast is for you. Kate talks about what it takes to be a successful entrepreneur, she shares tons of tips and lessons learned. One of the things I love most about Kate's podcast is that she uses her own real life examples. She will tell you about things she did wrong, the honesty is so refreshing. It is a great reminder that people don't always get it right on the first try. I listen to Kate's Take when I'm walking our dog or doing random chores around the house. 4. Around the Table This is a fairly new podcast, but I have a slight girl crush on these two. When I listen to an episode I feel like we are all sitting in cozy chairs in a coffee shop in Charleston. This blurb from their website describes their podcast perfectly! Around the Table is the perfect balance of intention and indulgence. Nutritionist chef Maggie McDaris of The Spread joins blogger Jacey Verdicchio of The Balanced Wife to talk food, intentional living, hospitality, and the ups and downs of life lately as 20-something ladies. Our goal is to help you live purposefully without skipping dessert! I've recently been introduced to This American Life and Serial. Two podcasts that come highly recommended by a few of my online and in-real-life friends. This American Life gets downloaded by a million people an episode, clearly I've been living under a rock, lol! Are you a podcast junkie too? I'd love to add more to my list.