Google+ is a bit of a beast to understand and use, but we really do believe having a Google+ for your brand/blog is a must. With 300 million active monthly users we think a few minutes each day should be dedicated to your Google+ profile. Check out this stat from a Forrester study to see why: 22% of adults surveyed said hey visited Google Plus each month, the same number who said they use Twitter, and more than LinkedIn, Pinterest, or Instagram.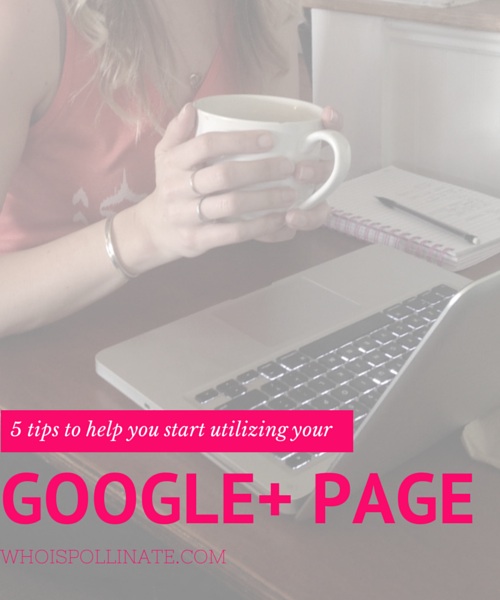 Here are 5 tips to help you start utilizing your Google+ page today! 1. Engage with others! Find like minded bloggers/colleagues by searching hashtags. Comment on their posts and add them to your circle. The same way you engage with people on Facebook, Twitter and Instagram, do the same on Google+! 2. Make you posts stand out by bold-ing and or italicizing your text!
to bold text simply put the text you want bold between two asterisks "*", i.e. *this is the text I want bold*. When you hit "share" that text will be bold.
to italicize text simply put the text you want between two underscores "_", i.e. _this is the text I want italicized_. When you hit "share" that text will be italicized.
3. Be sure to tag others in your posts. This is not to say you should tag random people, but if you are talking about a brand be sure to add their google+ profile name. If you are sharing a blog post you love from another blogger be sure to tag their google + profile. Let people know you are talking about them. 4. Don't share you "so-so" content on Google+. Many people think that because the don't have a lot of followers on Google+ they shouldn't share their best work their, WRONG! Think about it, Google+ is owned and a part of GOOGLE, you know the major search engine so many of us use! Even if you don't have a lot of followers sharing on your Google+ profile can help your SEO. 5. Photos, use photos! Just like with Pinterest we encourage you to use vertical photos that take up a lot of space. And not just any photo, but good quality photos or graphics. You want to make sure people see you posts in their google+ stream. If you're already on Google+ let's connect, if what are you waiting for, create your Google+ page today!