We're back with our Where do You Blog series! Today Kristi from And Babies Don't Keep shares with us where she blogs, how she keeps content fresh and how she combats writer's block!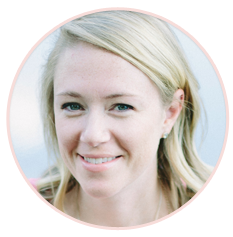 Follow Kristi: Instagram // Twitter // Facebook

Where do you blog? I blog from my "office" – aka the dining room table of our open floor plan home. Straight in front of me is the kitchen, so often I have to decide if I'm going to ignore the dishes and post, or sit down and write it out. To some, the dishes might seem the more honorable choice but I don't always agree. Blogging is one of the ways I take care of myself, so sometimes, the dishes sit a little longer. The life all around me is sometimes a distraction, but I'm a lifestyle blogger. So it works. And when the weather gets nice and the life starts to get a little too lifelike, I head out back with a cup of coffee and blog from the back porch, looking out into the urban woods behind our house.
What inspires your blog posts? I love being a storyteller, so most of my posts involve story somehow. A recipe has a story of how I discovered it or where I've taken it. A "tips" post includes little stories of how I figured out that peeing before going to attend to baby at night was super important. And so on. But sometime I just like to tell a story without worrying about applicatino. Life is funny. Like the time I accidentally accosted the Target security guard trying to get my giant cart lined up with the nursing bras before realizing he was spying on someone who was shoplifting. Whoops. When do you blog? My first instinct is to say that I blog at naptime and after bedtime. I have 3 kids under four years old and they aren't exactly great independent players, so blogging during their waketimes just doesn't happen (although it would be nice if they'd sit down with a puzzle so i could get an idea out every once and a while!). But more and more, I blog on the go, on my phone. I have a running list of ideas, and sometimes I start fleshing them out in my notes. Then I email it to myself – I prefer to load it on my computer than use the blog's app on my phone. Because I have a newborn, some of my "brilliant ideas" show up during middle-of-the-night feedings. Then when I look back through them they don't exactly make sense. Example – for some reason I wrote "Argue with Esther on the phone – 'be honest, it's thundering.'" No idea who Esther is and I don't think I'll be writing a post about that one! What do you do when you get writer's block? When I can't think of what to write, I flip through other blogs. There are so many great bloggers out there and reading their stuff usually gets my mind going. I will say that sometimes writer's block makes me step back and evaluate how I'm really doing. When I've had slight dips into depression, I've had a really hard time writing, so now that I recognize that I try to pay attention. Am I just too busy/too stressed to write creatively? Or is there something bigger going on? 3 tips with our readers on how you keep your content fresh. 1. Keep a list. Sometimes you'll have "Esther" ideas that make no sense later, but sometimes you'll see a pattern of what's really on your mind and heart, AND YOU'LL ACTUALLY REMEMBER IT when you sit down to blog. 2. Don't take yourself too seriously. Sometimes a good story is enough. A story about what really happened this day or that day can really help give a blog a feeling of accessibility. None of us wants to look like a museum display but giving specifics of what life is really like is vital for a lifestyle blogger. 3. Don't be afraid to step out. I blog about my faith and my family, about kid stuff and about funny things that happen. I know that people with different worldviews read my blog and I take that seriously. I'm going to try to be faithful to who I am – sometimes that means certain people might feel like a post is a little too sarcastic and other people might thing a post is too churchy. But both sides are part of who I am, and if I limit myself to what's going to keep everyone who might ever read it satisfied, things will go stale really quickly. So I don't.